OnePlus 5 specs spotted on China's Radio Regulation Authority:
If you had been enthusiastic and following the latest emerging brands in the smartphone market, it is most likely that you would have heard about the brand OnePlus.
In case you didn't know, OnePlus is a Chinese smartphone manufacturer founded in December 2013. It is headquartered in Shenzhen, Guangdong. The company's first smartphone was unveiled in April 2014 named OnePlus One with model number A0001.
Ever since the launch of this smartphone, OnePlus never failed to dissatisfy the customers. Its flagship killer strategy has been putting high-end brands under pressure.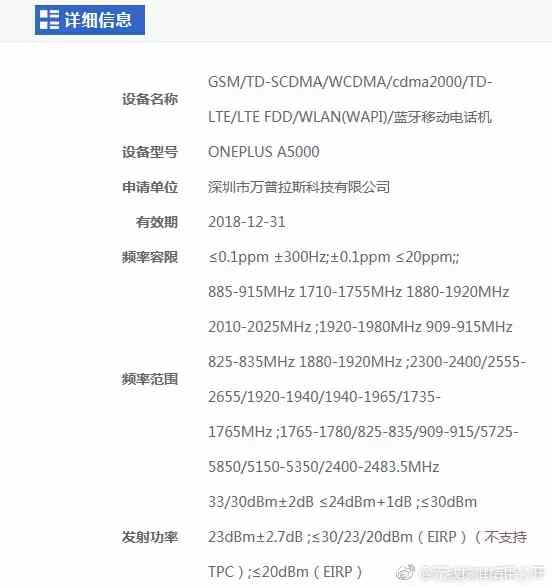 Few weeks before, there were many rumors about the new OnePlus 5 specs. They were not so trustworthy as the model number jumped straight from A3000 to A5000.
But the Chinese do have a valid reason for this because they consider the number 4 as unlucky as part of their culture. Just like Americans consider the number 13 as unlucky. It is generally avoided if possible.
OnePlus is known for using model numbers like A1000, A2000 and A3000 so when A5000 showed up in China's Radio Regulation Authority database, it attracted people.
As of now, only the model number, wireless and cellular capabilities of the phone is known.
The OnePlus 5 is rumored to sport a 5.5-inch 2K display (1080 x 2048 pixels) display. Most likely it will be powered by Octa-core Qualcomm Snapdragon 835 processor along with 6 GB / 8 GB of RAM.
As far as the cameras are concerned, it is rumored to sport a 23-megapixel rear facing sensor with features like Optical Image Stabilization(OIS), zoom, fast flash along with a 16 MP front-facing camera for selfies. While the phone is expected to be just 7 mm thin with slim bezels.
It is rumored that the fingerprint sensor is expected to be present at the back panel(inspired from the Galaxy S8 maybe) instead of being integrated into the front display or the home button.
The expected price of the OnePlus 5 is around $500 (Rs 32,300).
The OnePlus 5 is expected to be fuelled with a giant 4,000mAh battery along with the company's very own Dash Charge technology.
On the software front, the OnePlus 5 could run on Android 7.1 Nougat out-of-the-box with their feature packed OxygenOS running on top of it.
So, with the leaks, it can be understood that the expectation levels for this device are a bit too high.
So, are you planning to get your hands on the OnePlus 5 as soon as it gets launched? Drop your views right here in the comments. Thanks to Pcadvisor for the featured image.